Looking for the ultimate aquatic experience? Look no further than the 13 ft St. Lawrence Swim Spa! Whether you're an avid swimmer, fitness enthusiast, or simply seeking relaxation, this swim spa has it all. With three resistance river jets, you'll enjoy a smooth and steady current to swim, exercise or jog against. The three 5 HP water pumps and large flat floor (8 ft swim area) make it perfect for a wide range of activities, so you can customize your workout to fit your fitness level and goals.
But that's not all – the St. Lawrence 13 ft also doubles as a hot tub! After a long swim or workout, unwind in one of the multi-jet Captain's Chairs and let the powerful massage jets melt away any tension in your muscles. With the digital audio system and pop-up speakers, you can enjoy your favorite tunes while taking a relaxing soak while the perimeter multi-coloured LED lighting and two cascading waterfalls create a serene and inviting atmosphere. Designed for maximum comfort and versatility, the St. Lawrence 13 ft Swim Spa is the perfect addition to any home.
Size: 154in x 90in x 54 in
Pump(s): 3 x 2 Speed 5 HP 16.4 A
Seats: 6
Weight: 2400 lbs (Dry), 14000 lbs (Filled)
Electrical: 240V - 60A
Jets: 39
Detailed Specifications

| Detailed Specifications | |
| --- | --- |
| Outer Dimension | 154in x 90in x 54 in |
| Inner Dimension | 138in x 77in x 50in |
| Weight | 2400 lbs (Dry), 14000 lbs (Filled) |
| Water Capacity | 5250 L |
| Pump(s) | 3 x 2 Speed 5 HP 16.4 A |
| Oversized 2.5in Intake | Included |
| Heater | 5.5 kW |
| Electrical | 240 V - 60 A |
| Jet Count | 39 |
| Smooth River Jets | 3 |
| Waterfall(s) | 2 |
| Headrests | 2 |
| Slip Resistant | Yes |
| AO3P Filtration (Ozone + UV) | Included |
| UV Bulb | Included |
| Glacier Filter Set | 200 sq ft, included |
| Status Pro | Included |
| Bluetooth Audio | Included |
| Aromatherapy | Included |
| LED Lighting | Included |
| 7-Layer Blackout Insulation | Included |
| Deluxe 5"/3" Hardtop Cover | Included |
Owner's Manual and Warranty Download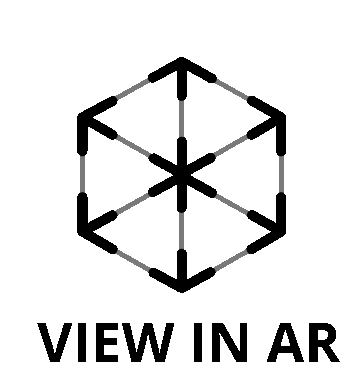 Standard Features
With every Great Lakes hot tub, enjoy our standard features listed below

AROMATHERAPY

WATERFALL AMBIANCE

GLACIER FILTRATION

BLUETOOTH AUDIO

ADJUSTABLE JETS

LED LIGHTING

MULTI-SPEED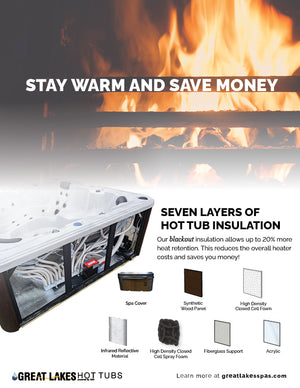 Structure
Our synthetic wood panel cabinets surrounding the interior, hardtop covers, and energy-efficient insulation, are all built with Canadian weather in mind - ensuring you receive a spa that is low maintenance and high performance! We take care of our spas, so that they can take care of you!
Our seven-layer Blackout insulation features high-density closed cell foam and a heat retention blanket surrounding the interior, providing your hot tub with insulation that traps and retains heat
Our molded base keeps water and pests out, while keeping heat in. It does it all without compromising its pleasing aesthetic
Our spas use North American components, including Balboa to ensure quality, reliability and longevity
Filtration
Our spas use Glacier filtration along with a built-in ozone generator and upgraded UV System to keep your water crystal clear and reduce your chemical use - letting you focus on enjoying your time in the spa, rather than caring for it!
Watch the videos below for more information on our Glacier AO3P System.
We have Filter and Chemical subscriptions available to help you SAVE, while keeping your spa care on track